OnPoint Warranty Solution's team of female leaders was named by Tops Magazine to its Women in Business issue!
The women of OnPoint helped to launch the business with an aim to revolutionize the warranty services vertical. Louisville, a mecca, and self-proclaimed extended warranty capital of the US, spun off several warranty businesses in the last three decades, all with roots to GE Appliances' Warranty Management business.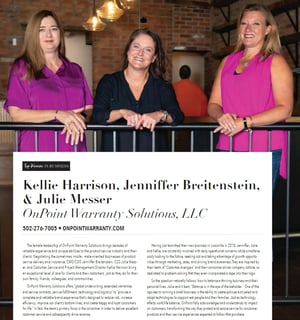 Though those businesses thrived over time, OnPoint's team realized working in some of those same businesses, and at the largest consumer products and workforce technology companies in the world, that consumer expectations of warranty services had experienced an evolution over the last several years.
Emerging technologies such as IoT and 24x7 connectivity through smart devices have transformed the way consumers buy products and how they expect to interact with product companies over the lifetime of a product. We believe that to meet consumer expectations and subsequently build brand loyalty which increases repeat sales for our clients, that we needed to focus first on the consumer.
Competitors tend to focus inwardly, on cost and margin, treating consumer interaction as a necessity and not an opportunity to deliver great service.
Driving great service experiences throughout each touch point in the post-sale consumer journey is the core element in our brand promise.
Delivering great service requires focusing on how we interact with consumers at different touch points along the way, initiative and hands-on problem solving. Our team endeavors to be relentless in understanding customer expectations and continuously improving our operation to exceed those expectations. We lead by example, ensuring that our company culture encourages and empowers our teams throughout the business to take initiative and collaborate with each other to solve consumer problems.
Our team relies not only on our singular experiences, but on our collective experience from similar and vastly different backgrounds to produce great results for our clients, day in and day out. It's also beneficial as the business develops strategies to 'care for' our client's consumers that we engage as women in the process. Women care for our families, colleagues and social circles. OnPoint's female leaders care for consumers in the same way.
We aren't just business partners. We aren't just women in business. We are business women using our experience to focus on delivering great customer experiences as our common goal.