CEO Views named OnPoint Warranty Solutions as one of 2019's Top Most Innovative Companies!

April 21, 2019, Louisville, KY, OnPoint Warranty Solutions, LLC, a leading provider of warranty services, including underwriting, service contract and extended warranty programs, logistics and service management, was honored by The CEO View Magazine in its latest issue as one of a small crowd of companies innovating their industries.

According to The CEO Views Magazine, "the rapid boom in technology in the last few years had a great impact on both industry and culture that showcases a variety of ways to thrive in today's volatile world." Further, "Spending on innovation efforts and its overall financial performance is one of the major issues that companies need to focus on."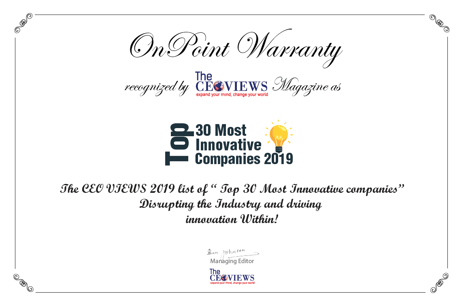 The companies named by CEO Views to this exclusive list are some of the most innovative organizations of their respective industries who offer the best in class in the technology landscape, including OnPoint Warranty Solutions, which has drives innovative product and service solutions for channel partners, which are critical components of its ability to impact clients' revenue through repeat sales.
Chris Smith, CEO, OnPoint Warranty, "The OnPoint brand foundation is based on experience, innovation and customer experience. As we endeavor to drive value for our clients through warranty products which provide balance sheet relief or improve revenue and increase repeat purchases, we're also focused on the end-consumers. By flipping the service paradigm and focusing on offering consumers the best service fulfillment, we can seamlessly connect manufacturers, retailers and service providers to their consumers through great service, driving consumer lifetime value and repeat product purchases.
For consumers, the market is ripe for OnPoint to capitalize on its product service experience, technology and highly skilled service network. By offering value added contract, warranty and services like on-demand repair, installation and configuration of smart home devices or maintenance services, consumer come to OnPoint for service under service contract and keep coming back to us for service on the rest of their portfolio of home products. We want to be the source for every consumer's product service needs."
"One of our partners tongue in cheek called the OnPoint team 'Service Avengers' many months ago as we were transitioning the business from warranty consulting to underwriting, warranty and service contract administration, and service fulfillment.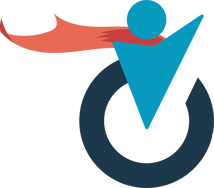 But we really grabbed onto that concept. We're working with the best underwriters, technology partners and most innovative service partners to weave together a consumer-direct support structure that consumers can rely on for all of their product service needs. We've even gone so far as to put a cape on our brand, reminding our employees and partners to be super heroes to our consumers every day! The future is bright for OnPoint and the consumers it serves, as we create a 'Service Avenger' team tasked with delivering great consumer service experiences, while providing innovating solutions which reduce risk, increase efficiency, and improve the bottom lines of its clients" said Rob Christian, President, OnPoint Warranty.
You can read the entire article here:
Contact us to speak with our Service Avengers!
About OnPoint Warranty Solutions
OnPoint was launched by customer experience experts with proven success helping global brands deliver underwriting, service contract and manufacturer warranty programs, service fulfillment, service administration technology and logistics, to drive the highest levels of consumer experience in the service industry. Building on the foundation of a connected, multinational service network, omni channel customer interactions and consumer-focused technology, OnPoint creates brand loyalty through service contract and service solutions designed to reduce risk, increase efficiency, delight consumers and improve our customer's bottom line. For more information, visit our website: www.onpointwarranty.com