Jenniffer Breitenstein, OnPointWarranty CMO wins a Women in Business Stevie Awards, Female Entrepreneur of the Year 2019, Bronze award!
On November 16, 2019, at the annual Stevie Women in Business awards ceremony, OnPoint Warranty

CMO, Jenniffer Breitenstein, was named the winner of a Bronze Stevie® Award in the Female Entrepreneur of the year category during the 16th annual Stevie Awards for Women in Business competition.
The Stevie Awards for Women in Business honor women executives and entrepreneur from all over the world, and the companies they run. The Stevie Awards are recognized as the world's premier business awards, and Jenniffer and OnPoint Warranty are honored to be named to the winners circle.
CEO Chris Smith, said, Jenniffer is a founding member of OnPoint Warranty Solutions. Since the founding of OnPoint Warranty, Jenniffer has made the company one of the leading brands in the warranty segment. OnPoint is a technology enabled, consumer-focused warranty services organization. Jenniffer's focus on deploying state of the art technology on our marketing efforts, especially as we launch our new direct to consumer brand, will drive OnPoint's success over the coming years."
"I am so honored to be recognized by my team at OnPoint Warranty and by the Stevie Awards!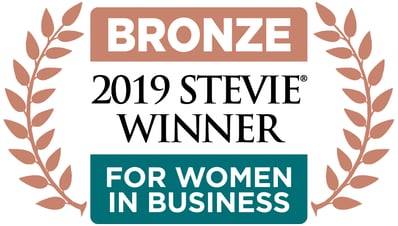 We've worked hard as a business to innovate our industry, and empower our employees and service partners to deliver the best consumer service experiences possible", stated, Jenniffer Breitenstein, CMO. "I feel passionately that new technologies, from the latest digital marketing tools that enable us to more accurately target consumers and personalize products and services for each individual, to consumer technology that facilitates real time conversations with our support teams, will drive the future of the warranty industry. Our team is driving change and innovation at a pace not seen in our industry, ever. Our clients see the progress, and the consumers we support feel the progress at each touch point with our sales and marketing organization, our support teams and our service providers. I can't wait to see where the business will be in just the next 3 years!"
Gold, Silver, and Bronze Stevie Award winners were determined by the average scores of more than 150 business professionals around the world, working on eight juries.
Maggie Gallagher, president of the Stevie Awards, said, "In its 16th year, the Stevie Awards for Women in Business received an outstanding body of nominations from women in organizations of all types, in 25 nations. We are gratified by how meaningful it is to women to win a Stevie Award, and how impactful it can be on the futures of their careers and their organizations. We congratulate all of this year's Grand, Gold, Silver, and Bronze Stevie Award winners for their achievements."
Details about the Stevie Awards for Women in Business and the list of Finalists in all categories are available at www.StevieAwards.com/Women. You can view winners here.
About OnPoint Warranty Solutions
OnPoint was launched by customer experience experts with proven success helping global brands deliver underwriting, service contract and manufacturer warranty programs, service fulfillment, service administration technology and logistics, to drive the highest levels of consumer experience in the service industry. Building on the foundation of a connected, multinational service network, omni channel customer interactions and consumer-focused technology, OnPoint creates brand loyalty through service contract and service solutions designed to reduce risk, increase efficiency, delight consumers and improve our customer's bottom line. For more information, visit our website: www.onpointwarranty.com
About the Stevie Awards
Stevie Awards are conferred in eight programs: the Asia-Pacific Stevie Awards, the German Stevie Awards, The American Business Awards®, The International Business Awards®, the Stevie Awards for Great Employers, the Stevie Awards for Women in Business, the Stevie Awards for Sales & Customer Service, and the new Middle East Stevie Awards. Stevie Awards competitions receive more than 12,000 entries each year from organizations in more than 70 nations. Honoring organizations of all types and sizes and the people behind them, the Stevies recognize outstanding performances in the workplace worldwide. Learn more about the Stevie Awards at http://www.StevieAwards.com.