There are 2 type of shoppers that all retailers should be aware of, Showroomers and Webroomers. And, it's of critical importance that retailers adjust your brand, product and communications strategies to adapt to these emerging customer shopping trends.
Let's look at the definitions of these two shopping personas.
1. Webrooming Consumers research products online before buying them in a physical store. (78% of consumers say they have webroomed in the past 12 months.)
2. Showrooming Consumers visit store(s) to examine a product before buying it online. (72% of consumers say they have showroomed in the past 12 months.)
*Source: https://www.huffpost.com/entry/webrooming-vs-showrooming-are-you-engaging-both-types_b_5919c9dae4b086d2d0d8d144?guccounter=1
With increased access to mobile devices, Amazon's Prime powerhouse, and a more discerning customer, how should retailers adapt? Here are 3 tips to help you incorporate both buyer types into your sales and marketing strategy.
Tips to Integrate Both 'Roomers into your Retail Strategy
Tip #1: Embrace Both Rooms, They're Here To Stay
Designing communications and product/service offerings that appeal to both rooms, in store and elsewhere, are necessary to driving sales.
Think with Google noted recently that 82% of shoppers say they consult their phones on purchases they're about to make while in-store. They discuss using mobile ads to create 'front doors' for consumers who are on their phones before every entering the store on foot, and using 'near me' searches to drive foot traffic.
Walmart said recently, that it has embraced both Webrooming and Showrooming trend by creating some innovative offerings based on consumer needs for immediacy and free shipping. Marc Lore, President and CEO of Walmart U.S. eCommerce, noted that "Two-day free shipping is the first of many moves we will be making to enhance the customer experience and accelerate growth… In today's world of e-commerce, two-day free shipping is table stakes. It no longer makes sense to charge for it…"
Home Depot has also adapted to these new trends. They offer online and in-store pick-up as well now as the 'heavy lifting', enabling customers to order online and have products delivered based on their selected appointment, selected from a scheduling calendar.
Tip #2: Be Attentive to Customer Inquiries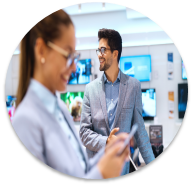 In this new shopper-age, brands can no longer support a single sales channel. Today's omnichannel consumers determine where and how they want to buy. Pay close attention and re-evaluate shopper behaviors and platform preferences so that new systems and technologies can be developed in response to demands. Understanding the ever-changing purchase journey is the first step in meeting a new type of shopping expectations. It is important to embrace Webrooming or Showrooming and implement active listening technologies, artificial intelligence, and to also develop meaningful metrics to gauge both the speed and quality of response online and in-store. Studying your shoppers' preferences and identifying key steps along the webroom/showroom buying journey will help you optimize the process.
Tip #3 Add Value With Warranty Services
Your customers have choices and your competitors are attacking your margins and position in the marketplace. Previously, we talked about convenience and adapting to the showroom and webroom through enhanced customer service and listening technologies.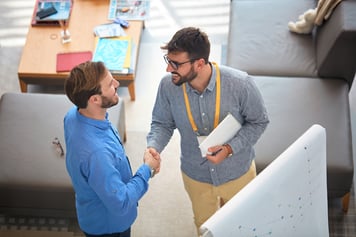 However, you can also tackle the challenge of addressing the concerns of "comparison shoppers" through product differentiation. Another strategy to consider is offering value added services, like installation, extended warranty or maintenance products, that can differentiate your product from competitive offers, while being easy to research and easy to buy for both show and web-roomers.
Providing additional extended warranty coverage, beyond traditional OEM parts and labor coverage, enables retailers to differentiate product with a longer warranty period or other subscription-based post sale service programs.
OnPoint Warranty's Dealer Protection Program provides consumers with innovative post-purchase repair protection options, while delivering the best customer product service experiences. Our program was constructed with several key elements in mind, to deliver innovation, service excellence and revenue.
We've partnered with A-rated insurers to deliver peace of mind to consumers through insurance-backed, fully compliant extended warranties.

We've broadened our product assortment to craft an extended warranty program that's feature-rich and right-priced based on our service repair experience.

We've created an innovative connected home program that offers lifetime protection and service options to consumers, post-retail purchase, including home warranties, installation, maintenance and product repair options build brand loyalty and repeat business for our clients.

We've innovated our dealer aftermarket programs to keep consumers 'in market' with a suite of products and services, that create value for consumers and aftermarket revenue for retailers.

We've invested in technology to support the best service experiences through our call center and digital consumer platforms, while connecting it to the most highly adopted service network management platforms.

We've invested in service capacity so that we can deliver service quickly and effectively.

We've invested in a culture that values and encourages a consumer focus, ensuring every interaction with us is positive. As a matter of fact, we won a Stevie Award for Customer Service in January!
Rooms with a View!
For retailers to adapt to a changing consumer dynamic where mobile devices are driving foot traffic and sales, putting together strategy that caters to both 'roomers' behavior, capitalizes on technology to not only drive information and foot traffic, but one that also provides instant access and value added services as a differentiator is key to sales success!
Find out how our innovative, fully insured Dealer Protection Program offers retailers POS and aftermarket product protection solutions that drive brand loyalty and repeat business through great service delivery.